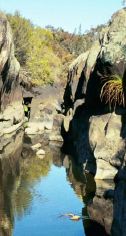 Emu Swamp Dam
The proposed Emu Swamp Dam site lies on the Severn River upstream of Fletcher Road, 15 kilometres south from Stanthorpe, Queensland.
The river flows into the Murray Darling Basin, but being at the headwaters it gathers a relatively small amount of water.
The river only runs for brief periods now, as many dams, weirs and harvest licences upstream have already captured the overland and river flow.
It is said that staff members of the Department of Natural Resources and Mines (DNRM, formerly DERM) describe the Stanthorpe area as the most dammed/weired sub- catchment in the entire Murray Darling Basin.
Relevant Documents
EMU SWAMP DAM Not The Solution
An independent report
Written & compiled by Rob Simcocks – affected landowner & concerned ratepayer
27 April 2016
ESD Business Case Stage 1 Final Report 20170602
SDRC
Qld Dept State Dev, Manuf'g, Infrastructure & Planning
Consultants/Report production: GHD
June 2017