U3A?

U3A is short for "University of the Third Age" but don't be put off by the title.  The name has nothing to do with our general idea of a University with assignments, exams and qualifications. Rather, it is a group of people wanting to satisfy an inner urge to learn.  It offers learning opportunities, equality among members, sharing of interests, skills, knowledge and good company.  U3A's informal approach is successful and appeals to most people.
There is no great divide between learners and presenters.  A student in one class may become a tutor in the next.  No academic qualifications are needed to join or to lead.
 What is the Third Age?
The Third Age commences when the first age of childhood/youth and the second age of active employment, family raising and professional life draws to a close.  The majority of people who participate are retired, however, there is no lower or upper age limit.  U3A is for those people who wish to continue or begin learning for its own sake, to enlarge horizons, pursue dreams and ambitions.
Where it All Began

U3A is a worldwide organisation. It began in France in 1968, when legislation was passed that required universities to provide more community education. In 1973 a highly rated gerontology course was provided by Toulouse University for local retired people, a course that was extremely successful and which led to the formation of what was to be the first U3A. This organisation was open to anyone over retirement age; no qualifications or examinations were required and fees were kept to a minimum.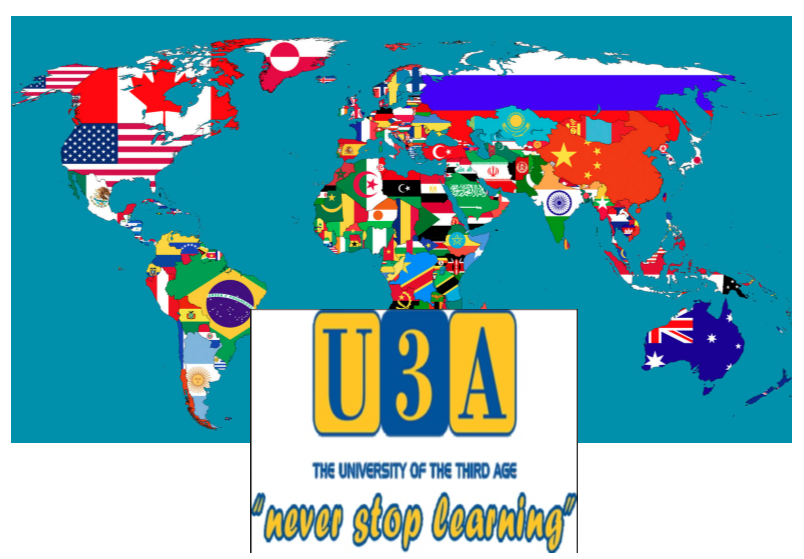 The idea spread rapidly throughout France and then to Belgium, Switzerland, Poland, Italy, Spain and across the Atlantic to Quebec and California. When U3A surfaced in Great Britain (in Cambridge), however, the "model" was to undergo a significant change. Whereas in the French model there were strong ties to the universities, which decided upon, structured and presented most of the courses, in the British model these university ties were to disappear.
In the new system there was to be no distinction between the teacher and the taught – members would, as far as possible, be teachers as well as learners. This new self-help approach is based on the knowledge that "experts" of every kind in every field retire, so there should be no need to depend on paid tutors.